Introduction
Boats Animator is a free and open-source stop motion animation program for Windows, macOS and Linux. Its intuitive interface caters to animators of all levels and offers many powerful features. The program has been open sourced under the GNU General Public License and contributions are welcome to the project's active GitHub repository.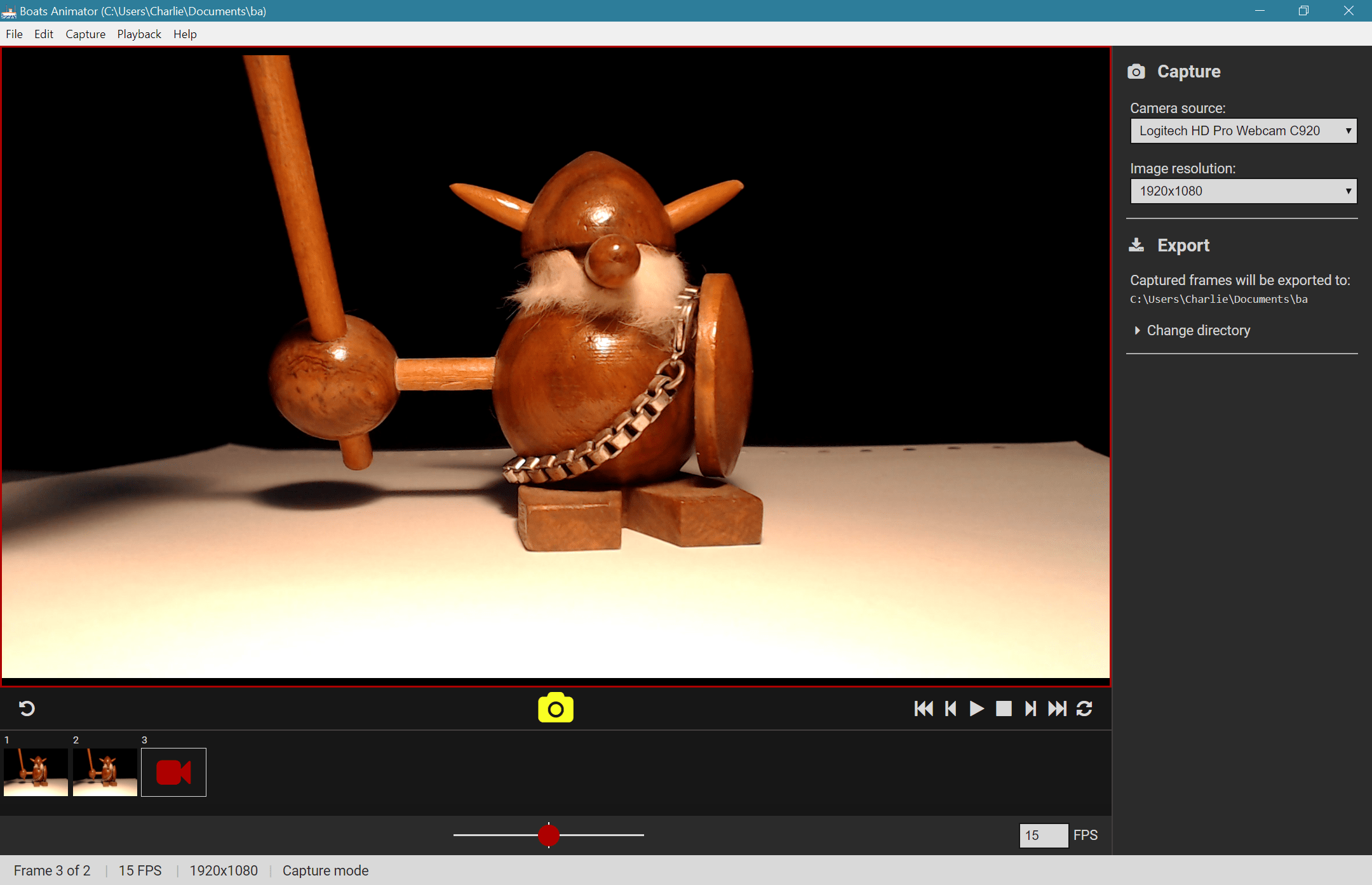 Features
Instant Playback

Instantly preview your captured frames with Boats Animator. Unlike other programs, there is no need to wait for the frames to process.
Onion Skinning

This professional feature helps keep your animations smooth by showing you a translucent version of the last image captured.
High resolution and multi device support

Boats Animator supports high resolution frame capture, including 1080p and beyond! It's also simple to switch between multiple connected devices for multi-camera shots.
For Windows, macOS and Linux

Boats Animator is built with web technologies which means it runs equally well on all major desktop operating systems.
Open Source

With an open-source code base, new features are always being added to Boats Animator by people just like you. Your suggestions and contributions improve Boats Animator for everyone.
Downloads
Note for Ubuntu 18.04 users: I have received reports of issues launching the program on Ubuntu 18.04. This is due to a missing dependency, please run "sudo apt-get install libgconf-2-4" and the program should launch.
Other
Recent News
9 March 2019
I am looking for photos of your studio setup with Boats Animator and screenshots of the program during production, so I can use it in places such as the Boats Animator website. I am also interested on getting your feedback on using the program. If you have got 2 minutes to spare, please consider giving your thoughts and uploading a few images to the 2019 Boats Animator User Survey (click the title of this news item to view the survey link, if viewing this message from within Boats Animator).
22 February 2019
Boats Animator 0.8.2 is now available. This minor update adds an warning message if the current save directory already has frames in it. This is to ensure users do not accidentally overwrite frames.
5 January 2019
Boats Animator 0.8.1 is now available. This version provides a few minor fixes to playback and resolution selection.